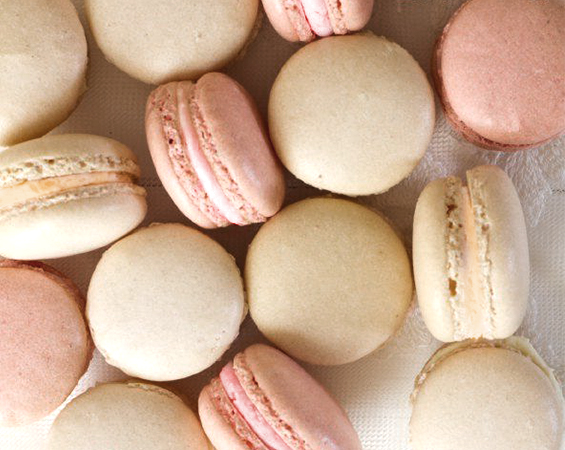 30 mins + 15 mins cooking
These little French cookies are absolute beauties! Perfect for a sophisticated afternoon snack or as a gift for a special someone. Our Milk Tea Powders will give the macarons a pastel shade without the need to add extra food colouring. Why not divide the batter/fillings and make a variety of macarons. All our milk tea flavours work great but we especially recommend Strawberry, Mango, Taro and Thai.
For the Shell:
105g ground almond powder
90g granulated sugar
120g powdered sugar
90g egg white
30g Milk Tea Powder
For the Filling:
190g unsalted butter
3 tsp heavy cream
40g Milk Tea Powder
15ml water
For the Shell:
Sieve the ground almond powder, powdered sugar and

Milk Tea Powder

into a large bowl.
In a separate bowl, whisk the egg whites until soft peaks form. Gradually add the granulated sugar and continue to whisk until stiff peaks form.
Add the powdered mixture to the meringue a third at a time. Fold the mixture until it falls in a thick ribbon from the spatula.
Preheat the oven to 300F/150C.
Transfer the macaron batter to a piping bag with a large round nozzle. 
Pipe the macarons onto baking paper in 3cm circles.
Tap the baking sheet on a flat surface a few times to release any air bubbles and leave them to rest for 30 mins until the macarons have developed a skin.
Bake the macarons for 15 mins.
Once baked, transfer the macarons to a wire rack immediately to cool.
For the Filling:
In a large bowl, add butter and whisk until light and fluffy.
Mix the 

Milk Tea Powder

with 15ml of boiling water until fully dissolved.
Add the milk tea powder mixture, heavy cream to the butter and whisk until thickened and ready to pipe.
Transfer the filling to a piping bag with a round nozzle and pipe on half the macaron shells.
Sandwich the shells and they are now ready!
Note: You can use food colouring to enhance the macaron colours if preferred. Add 2 drops od food colouring to the macaron batter before piping.