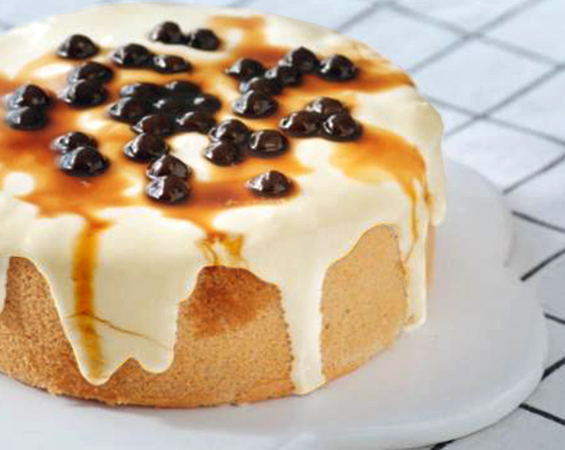 15 mins + 50 mins cooking
The Bubble Tea Lava Cake has hit the boba community by storm and here at Moriyama Teahouse, we have made the recipe simple to make with our ready-made Milk Tea Powders and Instant Tapioca Pearls. Enjoy this delicious airy chiffon cake topped with creamy lava topping and chewy boba!
For the Cake:
50ml milk
3 eggs, separated
30g vegetable oil
75g cake flour
50g sugar
For the Topping:
100ml milk
1 egg yolk
35g brown sugar
5g corn starch
200g whipping cream
75g Tapioca Pearls
Equipment:
16cm cake tin
acetate cake collar
For the Cake:
Preheat the oven to 320F/160C.
Mix 20g of

Classic Milk Tea Powder

with 50ml of warm milk until fully dissolved.
Separate 3 eggs into egg whites and yolks.
In a large bowl, mix the yolks, milk tea and vegetable oil. Add sieved cake flour and whisk until fully combined.
In a separate bowl, add the egg whites. Slowly add the sugar and whisk until stiff peaks form to make the meringue.
Slowly fold the meringue by thirds into the flour, milk tea mixture. Be careful not to over mix.
Pour mixture into 16cm cake tin and bake at 320F/160C for 50 mins. The tin should not be greased so the cake could rise better.
Let the cake cool upside down in the tin before taking it out and adding the lava topping.
For the Topping:
Combine egg yolk, brown sugar, 

Classic Milk Tea Powder,

milk, and cornstarch in a saucepan and mix until fully combined.
Heat the mixture on medium heat and stir constantly until it thickens.
Turn off the heat and transfer the mixture into a separate bowl. Cover with cling film and put in the fridge until it completely cools.
Add the cooled down mixture with the whipping cream and whisk until it thickens but not stiff. It should be able to be poured to create the lava effect.
Microwave the

Instant Tapioca Pearls

for 30 seconds.
For the Assembly:
Wrap acetate cake collar tight on top of the cooled sponge.
Pour lava topping onto the sponge and add the tapioca pearls.
Lift the acetate and watch the lava fall! Enjoy!